Greeting Cards From the Store Make me Nauseous
It never ceases to amaze me why we contribute to mass marked production of greeting cards. This past Christmas we didn't have time to make cards, so hubby bought them. A few cards for immediate family in the CS and we topped $50. I guarantee by now they have been recycled, or trashed.
I'm glad in some ways artists ave some sort of job (designing the cards) but I'm unsure just how much royalties they get per card sold (or if, as I understand if you work for Hallmark it's an inhouse position--meaning, you may get a salary for being a card designer.) With a million cards to choose from, is there a card designing monopolist that can boast they designed a real nice chunk of of the cards out there? Do they get royalties and salary? Probably not but I could be wrong. Then I see all those Disney cards and character cards and I really think the only one profiting is Disney (license owner) and the card company.
If You Desire to Design Greeting Cards, Enter a Contest and Win up to $500
So if you want to make money selling greeting cards, can you send some ideas? No, they don't accept them blindly. They do they have different contests here where you can submit a card. If you win this particular one here on the
Hallmark Competition Page,
you get $250 and if they choose to sell it in stores another $250. So thereby if you design a card and it's their store pickyou have just made $500 and you can tell all your friends while you are in the Walgreens's that that's your card. Keep checking their contest page, they run them often.
I'm not goi

ng

to end up in stores with my less than perfect upcycled creations, but I sure brought a smile to their face and and found all of these projects around the

house.

.
Greeting Card Universe Tips
Then there's the whole "
Greeting Card Universe-Become an Artist
" thing. It's an online store where you can buy greeting cards CHEAP. So think of that, if your design is accepted your royalties will be CHEAP too. Here however, you can learn all the tricks of the trade by someone from the Netherlands who uses it and makes money on Zazzle with her greeting cards knows how to get noticed
here on Squidoo.
Let's move on.
Sell Greeting Cards on Etsy
If you want to make greeting cards for a living, then sell them on Etsy. That's my suggestion to you. On Etsy you can be your own designer, and pay small and minimal selling and listing fees. If I had to buy a greeting card, it would probably be one of these:
Or this:
Etsy allows artists the leeway to create as an individual. For instance, the shop below's slogan says that their cards are made with Bourban and Love. These are the cards we want to send but can't. Well, over 5900 sales later, they are doing just fine.
This one is SFW: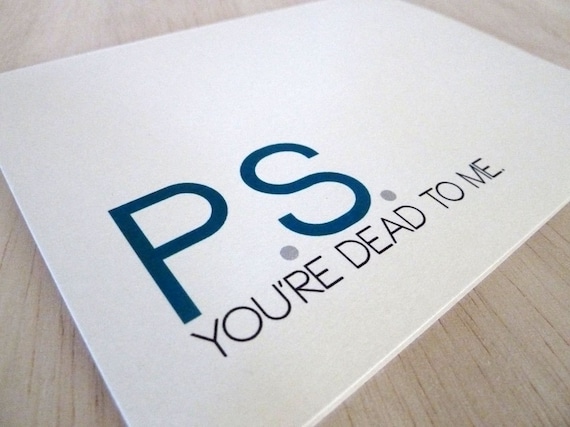 Etsy shop Sweetperversion has over the top greeting cards--the kind you really want to send for $4
Can you upcycle licensed images into your crafts?
If you are using someone's images or copyright materials you cannot sell the items for a profit--normally, unless those images are free-use or out of copyright. It's all very confusing but case in point I could not sell this little guy even if I wanted to as he's the spokesman for Geico.
Thanks Geico for all that junk mail. Here, I made a card and gave to a friend instead of tossing him out.
There's nothing like making things yourself. We hope Uncle Stu is less likely throw it away right after the holidays. Let's face it, you are his favorite niece, right?
Make Your Own Ghetto Card: (Like Mine)
If you need to make a lot of cards quick, (and this is a fun project for you and the kids, or you and some friends over wine) grab some of the following and get to work:
old manilla folders or stock paper (alternative: Kraft Paper)
craft scissors
Mod Podge
Paintbrush
Water
Old Magazines, Junk Mail, and Circulars
Kraft Paper Envelopes
GET CUTTING AND CRAFTING!
And, you can create whatever you want!
The best part is there is no wrong or right. You can be as creative as you want--old magazines are loaded with great letters that you can collage together to make cheesy (but ghetto cool) greeting cards!
Voila, cards in no time!
All works here; unless otherwise noted, were fashioned by
me.