This is part three of Five in a Series of how to get your art into a gallery. In case you didn't read the first part, please
start here on part one
, so you can catch up.
Part Three : Artist Networking
Basically, you need some credentials and contacts if you are going to be "a gallery artist." Your goal is to basically infiltrate the art community and make some friends. Fellow artists can help you make connections. The networking and "who you know" or "what you know" is what is really important. If you are a painter, network with a collage artist. You won't be competing against one another per se' since you have different mediums, but you can exchange ideas of where to apply, how to get your website linked in cyberspace, and who needs new artist entries.
Where better to do this than online, in your pajamas and from the comfort of your own home. Grab and latte and start joining forums. I don't just mean forums in your area. I am talking worldwide.
Now I could sit here all day and make you a list of 100 art forums to join, but then I'd be doing your work for you. Search google for "free art forums" or "artist forums" and go from there. I will however suggest six ideas and places that can help you and explain why.
Remember your goal is five - fold:
To network with other artists.
To create links (via profile or comments) that link right back to your artist site.
To upload photos of your work when you can.
To find out where to apply aka "call for artists"
To find out how to get yourself out on the web on blogs, art sites or interviews.
1. ARTIST FORUMS - Do this even if you don't do the other suggestions!
I'm telling you to join
Art Forums
This is a must-join and more important than most other things I suggest below. Now this particular forum is in the UK, but artists are members here from all over the world. This is a very friendly and supportive community for practicing visual artists across all genres, media and subjects. You can get a lot of helpful information out of their forums and basic membership is free! I strongly suggest reading and networking in this manner.
This is an excellent example of a generalized art forum where people go to network with other artists--find tips, tricks, and hear of opportunities to submit artwork. The forums will allow you to ask questions, hear about gallery opportunities, and learn from artists who have been there.
2. ART MAGAZINE FORUMS
Secondly, I'm going to point you into the direct of Forums that are created by publications or magazines. You can find this by searching for magazine you read or love. Let's look at
Cloth Paper Scissors' Forum
. This is a niche forum for mixed media artists put out by the site owners of the the magazine. Forums like this allow you to network with other readers but in turn you may upload and showcase your products and creations via photos, join contests, and sometimes learn how to submit or win inclusion in the next issue. What a better way to network if you are a mixed media artist.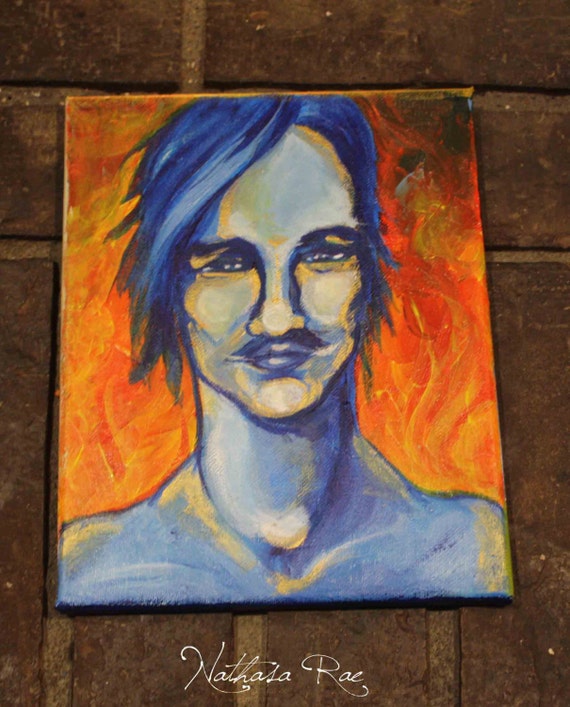 If there was a forum for paints she uses, then this artist should join it, Etsy shop NathasaRae
3. PRODUCT or SITE BLOGS : WHY THEY ARE IMPORTANT FOR ARTISTS
Some of your favorite art supplies that you use in your work may actually have forums or blogs set up. Take for instance Sizzix die cutting machines, they have a
blog.
Their blogger blog talks about projects, creations, or new items and allows comments. If they are talking about a particular topic, and you have a great item or piece of artwork you made with that die cut, why not leave a message and a link to the item by sharing it in the comments? This networking may just get your creation named in their "product gallery". Believe it or not, they even have a blog just for
UK readers.
4.
ARTIST BLOGS - READ THEM
Lastly network with artists who blog. Take for instance
Tim Holtz
, who is an active blogger. Of course you know he's also a famous designer of everything artsy. Often he will post invitations to share your creations or contests or talk about new shows. Network when you can but only post when it's relevant to your art.
5.
ETSY COMMUNITY
Etsy has a large community of forums. Some of the forums are for public view and anyone can join and participate in Etsy's forums not just store owners. Now some are clogged up with product listings galore and this is not what you want. You will really have to search in the community forums, for two key things that can help you. Search under "Call for Artists" or "Free Blog Features". Both of these can help you find out about submitting you art to galleries and to get blogged.
6. GET BLOGGED
Do not miss opportunities to get your work out there in cyberspace. You can go the micro-niche route where you are getting your work shared to the world wide web on artist blogs. Some will do this for free if they are in search of content, and some will do this for a small fee. Start reading artists blogs for submission information to find this.
Examples:
My blog features all kind of artists under "Artist Corner" and has a
submissions page.
Always check blogs for submissions inquiries, this is how you will find out what is required. Some blogs need content and will blog you for free. Others charge a submission fee and may not even blog you at all. Do your homework. Getting free submissions on ten different blogs means ten more links in cyberspace to your work or your art. What are you waiting for?
Tips:
Always comment when you can in forums or on blogs, and leave links back to your work in the URL field. Make sure to abide by the rules of some forums or blogs, who may not allow you to create links unless you are a paid member. Never be spammy, just matter of factly.